Website hosting charges: 5 tips to never overpay hosting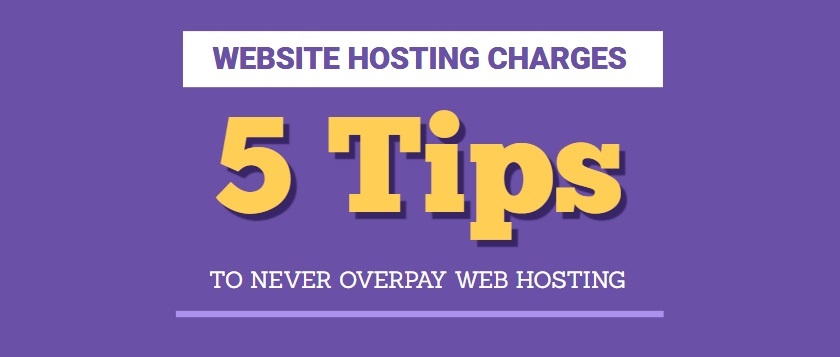 In this article, you will know about the Website hosting charges and how much does it cost to have a website online. The service that allows individuals and organizations for posting a web page or website on the internet is termed as web hosting. The service provider of web hosting or the web host is business that offers services and technologies required for webpage or website to be visible on the internet.
Servers are the special computers on which sites are stored or hosted. When someone using internet need to visit your site, it is required to enter the website domain or address in the browser. After this, the connection is established between the server. This is done so that you are able to view your webpages via the browser.
The service of web hosting is significant for business so that the website is published online. However, web hosting is not limited to the services of hosting. It offers much more than that to the business owners. For instance, it offers the assurance that your site will remain running and up 24/7.
It also offers support in case site owners are in need of troubleshooting or help. So businesses can enjoy free of hassle experience and put their entire focus and efforts on the core business aspects.

Tip 1: Understanding what is a domain name
The name of your website is known as a domain name that is the address where your site could be accessed by internet users. The domain name stands useful for identifying and finding computers on the internet. A number series known as IP addresses are used by computers.
However, humans find it difficult to remember this series. This is the reason behind the development of domain names. As they could be used in place of IP addresses for identifying sites on the internet.

Any combination of number and letters can be the domain name and it is also used in several domain name extensions combination like .net, .com etc. Before making use of the domain name, you need to register it since it is a unique identity. The same domain name cannot stand for two websites. Whenever the user types your domain name in the browser, the DNS server redirects it directly to your website.
You can get free domain names paying your hosting yearly. If you prefer paying your hosting provider month by month, you will have to pay the additional fee for the domain registration. As a conclusion, it will increase your website hosting charges in the end.
Costs of business website hosting:
The first step in building a site is to acquire a domain name. You may be looking for the average cost of the domain name. You need to know how much to pay for it. In this case, you should know that several factors are there on which the cost of domain name depends. For instance, if you are looking for the domain names owned by someone else then you need to make a bit of spending for this purpose.
The cost of some older domains has also reached to millions. This is especially the case of special names like hotels.com, insurance.com etc.  The average cost of a domain name can range from anywhere between $10-12 on the basis of your contract length.
In the case of cheap web hosting, you need to make a payment on the basis of the type of hosting whether shared, dedicated or server hosting. The average cost can range between $2.59-$149. It is also possible to develop a website with a site builder that is free of cost.
Tip 2: What are the prices of Google web hosting? Is it really worth?
The Google website hosting charges can range from $44.66/month for the 3.75GB custom 2 core hosting solution. You can also get an additional 4.25 GB by paying $10 more in this plan. Therefore Google web hosting offer tuff competition to the popular hosting plans in terms of cost as well as performance.
Comparison of website hosting charges:
Host                      Domain name plans                       Hosting plans
Godaddy             $14.99/yr for .com                           shared-$3.99/month, dedicated-$89.99/month
Bluehost              $11.99/yr for .com                           shared-$8.99/month, dedicated-$79.99/month
Copahost             $10.93/yr for .com                           shared-$2.20/month, dedicated-$65.13/month
iPage                     $14.99/yr for .com                           shared -$10.95/month, dedicated-$119.99/month
Google                 $12/yr for .com                                 shared

From this price comparison, it is clear that the cheapest option available in terms of both domain names as well as hosting is Copahost and it shines in terms of performance and support as well.
Tip 3: Free web hosting companies, the fake offers
In comparison to the hosting companies that offer services at some cost, the services of free web hosting do not stand up to the mark. They do not offer the desired services and often lack the desired performance as well as support.  In the case of free hosting, you can also come across many problems.
These include shutting down of host on a frequent basis, limited resources, servers overflowing, negative effect on the ranking of search engine.
Differences between reseller hosting and shared hosting
Shared hosting: in these hosting plans you can host your website together with others in the same server. The web hosting servers offer a control panel, for you to perform the daily operations with emails, domains, etc..   On the plan of shared hosting, it is possible for you to host countless domains. For this purpose, you need to visit the cPanel section and click on Addon Domains and add additional domains here.
The plans of shared hosting do not allow reselling since it might have adverse effects on the other users of the server. All the domains are provided with just one control panel.
Reseller hosting: All the owners looking to resell the hosting can find reseller hosting as the best option available. It is possible to have between 10-250 distinct cPanel accounts on the basis of your selected reseller plan. Therefore a reseller hosting plan allows the owner to set up separate cPanel for each of the domain names.
Tip 4: site builders vs. hiring a web designer
The choice depends on the nature of services that you are looking forward to on your website. An affordable and popular website builder can serve as the right choice for you in case you are not able to earn much revenue and are in new business.
On the other hand, a medium or small-sized business should go for professional web designer services. It will help you by saving several working hours.
Website builder:  it is a substitute tool for coding and design knowledge. In the website builder, you can select the desired template design that is pre-made instead of getting Photoshop knowledge and fundamentals of design. The preset code and functions of website builder prevent the need of knowing HTML, CSS and other such coding languages.
Web designer:  When you hire the services of a web designer, he can bring your ideas to reality and can work out with the concept arising in your mind. With the services of a web designer, you can also get the site with stricture and design customized as per your customers. So it is clear that services of web designer help you get a professional site that generates better sales by facilitating conversions.
Costs
Website builder: Relatively website builders are cheap and therefore serve as the desirable option for upfront, smarter investment of startups. You also get the option to select from several templates in an inexpensive website hosting charges. However, it can take time since you need to do things by learning them from a relevant source.
Web designer: there is no doubt in the fact that hiring the services of web designer stands higher in investment. The cost of web designer services depends on your demands and type of website that suits best for your business. Another benefit of web designer services is that you get time to focus on your business. In the meantime, experts take care of your web site hosting server.
Tip 5: Different plans for domain hosting
The most appropriate option for you in domain hosting depends on your requirements. If you need individual domain names (websites) within one account, then you should go with multiple domain hosting. It's usually cheaper to order domain and hosting together, in order to get a cheaper price. Copahost gives a free domain registration if you pay one year of hosting.
All of these are available with special packages that allow hosting in one account of all the pages. The count of domain names does not matter as you get the plans offering unlimited domain hosting.
The service of multiple domain hosting implies that you get the ability to host several domains from a single account. Additionally, adjusting and managing the bulk of domains never gets this easy. It is efficient, quick and simple. You can also enjoy the expansion of your business to several domains at the time of its growth.
Here we are with the best options available in domain hosting on the basis of website hosting charges.
Some pricing comparisons
Copahost: starting with $2.20/month
Bluehost hosting:  it starts with $02.95/month
A2 Hosting: starting price-$3.92/month
HostGator- starts with   $2.64/month
iPage- starting price $1.99/month
Hostinger- starts with $2.15/month
So these are the best options available in website hosting charges that you can go for to grab the most affordable hosting. In this case, all you need to do is check the provided options with your demands so that you can pay for the desired services. Website hosting charges consists of several different factors as explained above. In order to make the most appropriate choice, you need to go for the option that is affordable. Also, it should also meet the different requirements of your business website.