Best domain and hosting provider
Do you already know what is the best domain and hosting provider? So, in this article, we will discuss important things to verify before you choose your provider.
What is a Domain?
A domain, or domain name, is the address of your webpage on the internet. You can obtain a domain with different extensions, like .com or .net. You must pay for your domain name registration, usually with annual renovation.
The domain name must be the reference of your WebSite. The name must be like a mark. So, choose a name that defines well as your business.
So, you must choose a good domain name for your webpage, this can do so much difference in the way you ll be view on the internet.

The Other tip is to use a registered and paid extensions, like .com or .net. The free Domains aren't recommended, they have a bad reputation on the internet and must affect your site negatively.
You can read more about a domain Name on our guide "What is a Domain Name?"!
What is the best Domain Provider?
There isn't a better domain provider. But you must pay attention to the extensions offered by your provider. You must pay attention to the price too. Some Providers may put a greater price than the common. In general, there is some point to pay attention in your Domain Provider:
Privacy Recourses;
Support;
Extensions Disponibilizeds;
Renovation price;
So, now you can choose your domain Provider.
In CopaHost you can find some extensions of a domain with the better prices! And, if you buy a Hosting plan, you will receive 1 year freely of domain registration!
What is a Hosting Server?
A hosting Server can be defined as a server where you can upload the files of your Webpage and he will be responsible to maintain your webpage online.
So, the better way to make this is with the hosting provider. This is a Company that rents parts of his Servers. Some companies have different types of servers.
The most common type of Hosting is shared Hosting. This has a low cost. You must choose this option if you just wanna have a simple webpage, without many resources.
Another type of Server is the VPS (Virtual Private Server). In VPS type, you can get a part of a server with a partition just for you. So, VPS Hosting is recommended if you need more server resources and if you are a web professional or an agency.
You can find other types of hosting, like Cloud Hosting.
See more about Hosting Server in our article about What is Web Hosting.
What is the Best Domain and Hosting Provider?
To define what is the best domain and hosting provider, some ranking adopts some criteria.
The things you must know to choose a provider is if he is ok with your needs.
So, here some tips:
Look if the Domain and Hosting Provider have experience in the market;
Verify what is the type of servers in his plans;
Verify the support of the Company provides;
Look if the server has what you need;
If you use WordPress, verify if the server has WordPress support or PHP Programming language and MySQL database support. It's common some Providers offers a WordPress Hosting plan;
If you use other CMS, so, you should verify if the server offers support for this CMS too;
Verify what resources the Hosting offers in his plans;
If you aren't a professional, we recommend to you to choose a Hosting with a Control Panel. The most commons control panels are the DirectAdmin and the cPanel;
The price of the Hosting Plans.
With these tips, you can choose the Best Domain And Hosting Provider to your needs.

In CopaHost, you can find some types of servers and so many plans to attend all your needs! We have the most recent technologies on our server. Therefore, we have our own data center, to maintain better quality and security! Our plans have support for the most part of today resources, like the most used CMS, like WordPress. So, go to our page and find a better plan for you. We can guarantee to you quality, safety, nice prices, and Satisfaction!
How to Get a Domain and Hosting plan at Copahost Provider?
At CopaHost, you can obtain your Web Hosting easily. For first, access our homepage. There you can find our plans. Choose one and click in the "Order" button.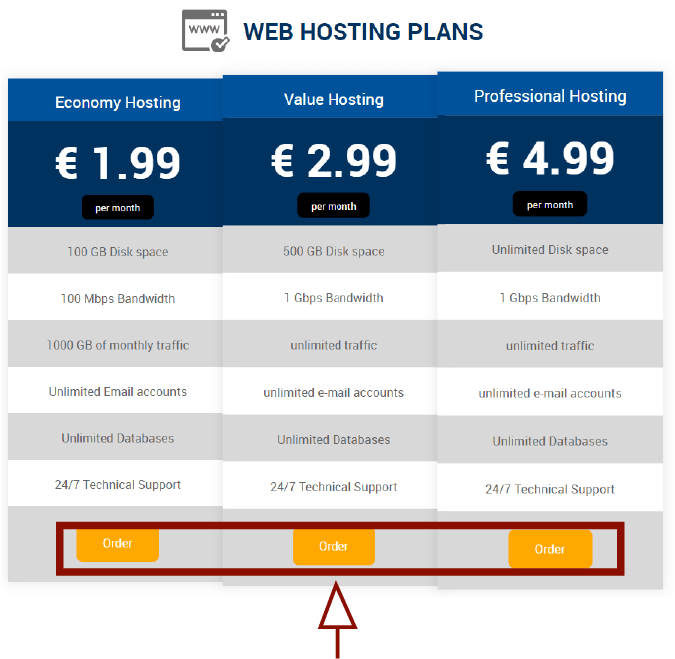 Nextly, you should choose your domain name: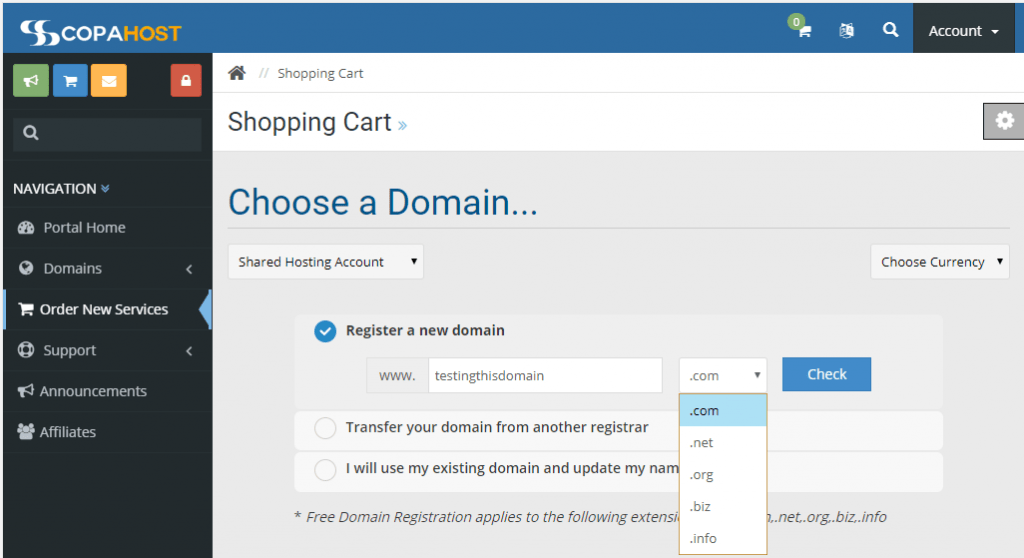 If that is available, you will see this message: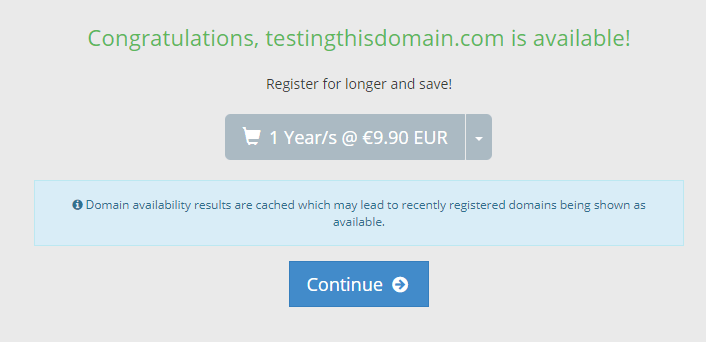 Click on Continue. Nextly you should make your checkout. Confirm what Billing Cycle do you prefer. If you want a dedicated IP, you can select here the option Yes. After that, click on Continue.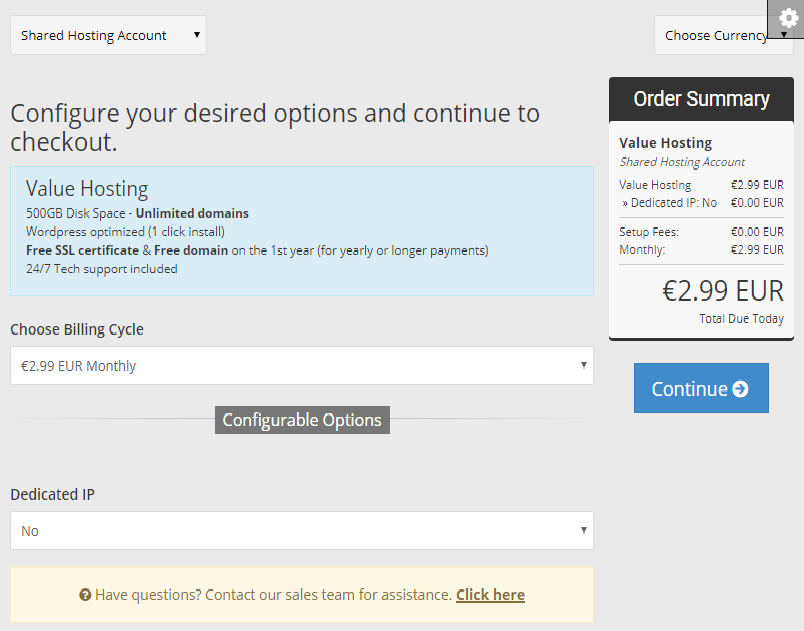 Now, Now, you must fill in the form with your data correctly. In the end, click on the "Complete order" button: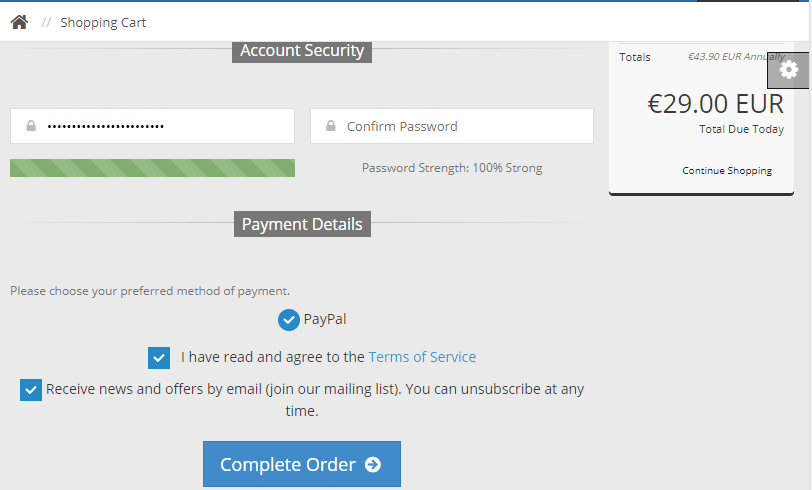 Everything is ready. Make the payment and you will receive a confirmation by email. Now you already have your hosting plan and your domain name! Put your website on the internet!