Cheap and best domain hosting: how to find it?
The world is moving at a very fast pace, with most businesses moving to an online-based service centre. This tends to increase their market visibility and return on investment. While these businesses may be willing to maximize profits, running a website, or purchasing a domain may be one of the most expensive things they can come across. In this article, we will help you to find cheap and best domain hosting for your company.
You must have heard the popular age-long saying depicting cheap things as inferior. Well, it's definitely not the case with our cheap domain hosting packages. Our cheap and affordable domain hosting services offers the same benefits as the higher-priced hosting platforms.
In this article, we shall discuss some important ways on how to identify the best domain hosting services that can serve your needs at affordable rates.

How to find a good and cheap hosting company?
Finding a good and cheap hosting company may not be as hectic as you may have thought. It is as easy as reaching out to your mouse and issuing the right commands. Here are a few tips to always consider before choosing a cheap hosting company.
a. Recommendations
A good domain hosting service provider should come highly recommended by previous clients. To be sure you are getting the right recommendation, it is highly important that you consult with friends and family members on the best domain hosting services they have used in the past. This will save you time and cost. Also, make sure that the domain hosting company is recognized or registered by the right governing bodies to avoid paying money to scammers all in the name of purchasing a domain hosting service.
b. Double-check unlimited or free hosting offers
Cheap domain hosting companies may present you with some mouthwatering unlimited storage and bandwidth for a few cents a month. This may be a trap to lure you into purchasing their services with several hidden charges. Make sure you take out some time to read the terms and conditions of working with the company to avoid the chances of reducing your performance over time or shut down your service after a certain usage level.
c. Settle for a portable content management system
Domain hosting plans can change over time due to market trends and demand. It is highly advisable that you settle for domain hosting sites that offer the services you are interested in. Have a backup practice in place peradventure things go south with the hosting company you are not sure of. The content management system differs based on your web hosting service needs. You can decide to use WordPress with PHP or otherwise. The choice is yours.
d. Pricing
How much is the domain hosting company willing to offer their best services to you? The aim of cheap and affordable domain hosting services is to give you a chance to have an online presence by spending little to no amount at all.
e. Ease of access
Not just in terms of price, the best domain hosting platform should be easily accessible. The support should be available round the clock to meet the needs of users and ensure they get value for their money.
Copahost: the best alternative for cheap and best domain hosting
Copahost was created with one purpose in mind; to see to the needs of small and medium businesses through the provision of highly affordable domain hosting services to suit your needs. It offers both domain registration and hosting services. Copahost has a network count with DDoS protection of 30 Gbps and is presently connected through carriers like Level3, PT, and Telia.
Our highly affordable domain hosting service comes in three packages, from € 1.99 to € 4.02 per month. Some of the incentives offered include 100GB to unlimited disk space, 100Mbps to 1 Gbps bandwidth, unlimited email accounts, and 24/7 access to customer support.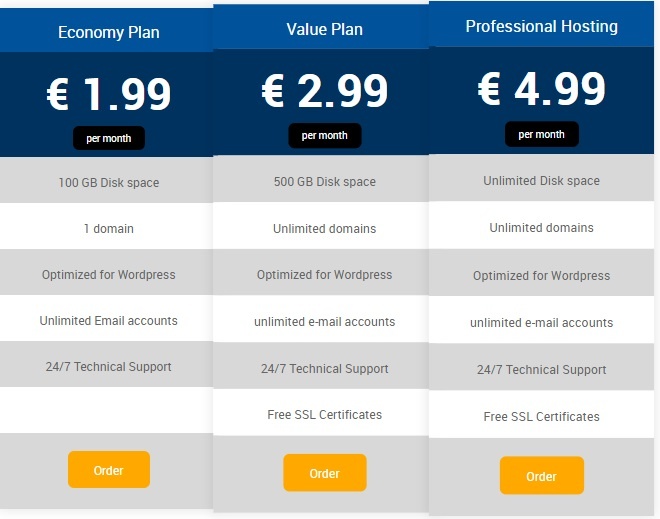 With our team of highly skilled and certified professionals with over 10 years' expertise in serves the security, optimization installations, and general maintenance, you can be assured of expert-based routinary maintenance and consulting services. We are all out to help our customers in developing their solutions to all their domain hosting needs.
We have a zero-tolerance for pollution hence the need to power our data centres with clean and green energy-releasing zero CO2 emissions. Our scope of services includes but are not limited to the following;
Hosting reviews: are they realistic?
Before determining the authenticity of hosting reviews, it is important to research the credibility of the source publishing it. In most cases, these hosting reviews may rank domain hosting service providers based on one reason or the other, which can be affected by bias. To solve this challenge, we suggest you take out some time to conduct personal research into the operation mode of the company for better services. Hosting reviews are realistic but can be misleading.
Shared hosting plans: one cheap hosting alternative
Whenever a company offers a shared hosting plan, it gives the customer the ability to weigh their profits and loss while seeing the reason why the plants differ. You can go through our list of web hosting packages for anyone that suits your need.
Copahost offers several categories of cheap VPS Hosting that is compatible with Linux and Windows, Debian, CentOS, Ubuntu, and other operating systems. We ensure that all our VPS servers include full root/admin access, automated reboots, and realtime usage statistics.

Conclusion
Choosing the best domain hosting website can be a hectic task if you lack the basic information and qualities of domain websites. Our domain hosting packages were designed with your business needs in mind. We take special note in meeting your needs with 24/7 support. Our team of experts is ready to provide domain hosting services. Our domain hosting services are highly recommended by previous clients.
Don't forget to contact us if you have any questions about our services. We will love to hear from you soon. Please share this article with friends.