Free cPanel alternatives: Centos Web Panel
As per the recent cPanel announcement, its license cost increased a lot. cPanel was the world most used control panel, but nowadays a single server license can cost as high as 450€ a month (it was less than 39€ in the past). The new cPanel licensing cost (explained in this official announcement) varies according to the number of hosted sites in a server. While the whole web hosting market was shocked by the sudden news, we believe the current tendency is to find free cPanel alternatives. Centos Web Panel is a free Linux based control panel, that has several nice and useful tools.
We have several customers using CWP – Centos Web Panel for a while. In this article, we will share our thoughts about this nice web hosting control panel.
Centos Web Panel installation
It's very easy to have CWP installed. As a free alternative do cPanel, the installation process looked even easier than cPanel. If you need detailed instructions, you can follow CWP's installation guidelines.
Firstly you need a clean CentOS Linux installation. It also works with Debian. The first step is to configure your hostname:

hostname srv1.example.com
Then, you need to install wget:
yum -y install wget

Now, you need to update yum and do a short yum system update:
yum -y update
Afterwards, you need to reboot:
reboot
After having the server rebooted, we will run the installation commands:
cd /usr/local/src
wget http://centos-webpanel.com/cwp-el7-latest
sh cwp-el7-latest
Now that the installation is complete, you can access your server:
http://SERVER-IP:2030/
Login: root
Password: same password as root
Please note that it also works in the same ports as cPanel (2087 and 2083). This makes it even easier to remember.
Cloudlinux installation (optional)
Nowadays, to be able to host let's say more than 100 sites in a single server, Cloudlinux is a must. It ensures each user's resources don't overlap others'. In other words, Cloudlinux will guarantee an equal CPU and memory share for your users and will make the server way more stable as well.
To install Cloudlinux, just type these commands (please note that Cloudlinux requires a license):
wget http://repo.cloudlinux.com/cloudlinux/sources/cln/cldeploy
sh cldeploy -k YOUR-KEY
cd /usr/local/src/
wget http://dl1.centos-webpanel.com/files/c_scripts/cloudlinux.sh
sh cloudlinux.sh
After installed, you need to reboot and enable CageFS:
/usr/sbin/cagefsctl --init
cagefsctl --enable-all
CWP Dashboard
As you login to Centos Web Panel administration interface, this is the first look:
Our opinion: It's a complete screen, and even easier to manage than cPanel. It shows you all the top processes in the first screen and gives you tools to restart and pause services right in your hands.
For advanced system administrators, the Postfix Mail Queue is a very good tool as well. It's easy to access and manage. It will prevent floods in your server and email delivery delays.
New web hosting account creation
This screen is very similar to cPanel. You can choose the domain name, password, IP address. Another great tool is to choose the number of process limits, inodes, and open files. This can ensure that a single user won't steal performance either important server resources from others.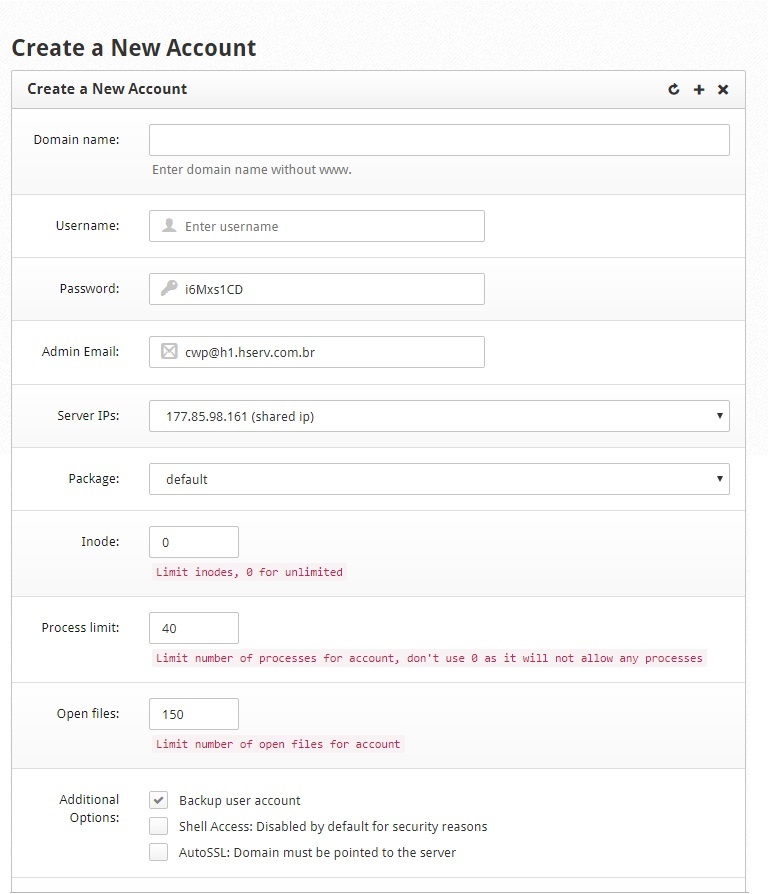 List accounts interface
Also very similar to cPanel. Apparently with fewer tools available. Thus, all the basic functions can be performed in your hand: edit account, change password, configure DNS zones.
User side control panel
The user control panel of Centos Web Panel looks simple, clean and useful. The CWP theme is easy to customize (requires just a few HTML knowledge). The company logo is customizable as well.
The email section also looks clean and easy to use. CWP configures SPF and DKIM automatically for newly created accounts.  The mail settings are shown on the right side of the screen. We consider cPanel lacked showing such information clearly (some customers usually contact us asking for these details in their control panels).
File manager
That was a great surprise. Centos Web Panel has a very nice and complete file manager. It works just like an FTP Online. There is no need to download an FTP client for newbie customers. Also, it allows you a quick edition of files. This is very useful to make quick adjustments to a website.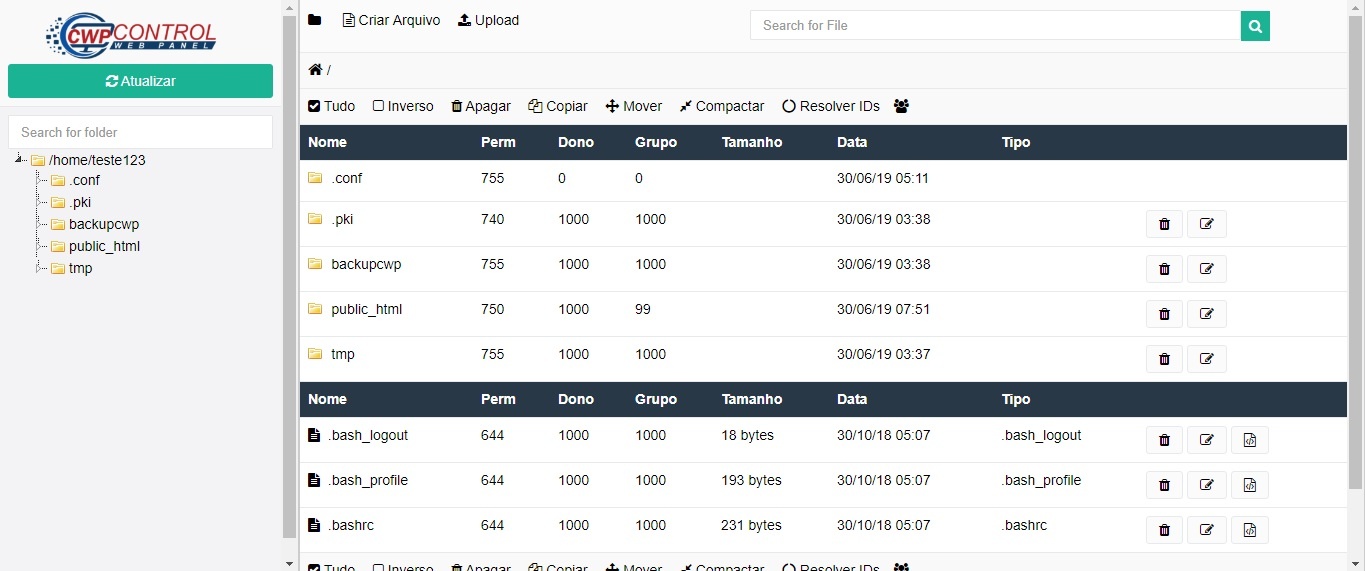 cPanel migration tool
Another good surprise was the cPanel migration tool included in Centos Web Panel. You simply have to place the cpmove files inside your /home folder, and then this tool can restore them for you. There isn't a tool to transfer the accounts from one server to another just like in cPanel. You have to manually backup your web hosting accounts in cPanel and then transfer them manually to your new server. We consider this is one of the best migration tools on free cPanel alternatives.
Conclusion: how CWP performs as one of the free cPanel alternatives
As one of the free cPanel alternatives, Centos Web Panel can be a very helpful tool for small servers hosting less than 100 or 200 sites. It includes most of the functions of cPanel. CWP team/community also offers a Pro (paid) support. If you need any assistance, their support can handle it for you.
CWP looks amazing as a free control panel for web hosting. It fits perfectly in a VPS or Dedicated server. There is a backup tool that worked smoothly in our tests. The cPanel migration wizard was just easy to use during our tests. It's very feasible to migrate cPanel accounts to CWP.
There is a lack of language files. If you need a different language other than English or Spanish, then you need to translate it by yourself. They offer a language tool that makes this job quite easy, but time-consuming.
We also found a lack of tools to diagnose Apache/PHP harmful processes. Let's say a user consums a lot of resources, this can be a hard time finding the cause of the issue. There may be plugins available for that, and we will keep you posted if we find a good tool for that.
Another feature that we missed was a management screen for resellers. There is a resellers plugin that you can install, but it's not native in CWP. We have read that this is likely to be implemented shortly by their development community.
And finally, something that warns us is that Centos Web Panel doesn't have frequent updates like cPanel and DirectAdmin do. This can be tricky somewhere in the future, as per security issues.