VPS vs Dedicated Server comparison
Choosing the right web hosting is a critical decision for your business. Without a host, your website won't be visible online. Your web host plays a critical role in the distribution of your online content. Hence, without a reliable web hosting service, you will have less ability to reach your audience on the internet. In this article, we will compare VPS vs Dedicated Server and show you the pros and cons of each solution.
The host that you choose must be able to scale and adapt to your business needs. Probably, this should be the first step to check before you sign up for any hosting services. Nonetheless, there are different options of servers to choose from, and it can be a daunting task to make the right decision especially if you are not tech savvy. Otherwise, from an enterprise of professional setting, you should always stay away from shared hosting. Thus your decision will narrow down one of the two choices:
Virtual Private Network
Dedicated Server
Although the two are both servers VPS vs Dedicated Server, either of them performs similar functions. However, there are significant differences. Therefore, it is fundamental to understand the variations so that your business gets the best hardware solutions that you need. In this article, therefore, we take a swipe at the difference between VPS vs. dedicated servers, their pros, and cons. Read on to understand more.
Functions of Your Web Hosting
As a business, you must have a certain baseline of standard metrics for what your business requires. The parameters will serve as a template for testing and ultimately finding the optimal solution that you need. Although there are different types of servers, sticking to your business standards will help in making the final decision on what kind of server to settle on.

Additionally, the web host you choose has a direct bearing between your content and the internet community. The hosting server is responsible for securely storing your website's information and the associated datasets. Besides, it is also responsible for delivering a request to the appropriate parties efficiently and safely as possible.
Furthermore, security is one of, if not the most important decisions you make when settling on a web host. Firms that decide to use third-party hosting without taking into account proper security are in grave danger in the long run. Many people look for cheap web hosting plans but in fact, they need more than it to keep their business healthy.
However, both VPS vs Dedicated Servers are effective solutions for protecting data. They achieve this through streamlined and optimized configurations, tiered data access policies, and advanced firewalls. One of the chief merits of both VPS and dedicated hosting is that security systems are often automated, thus your data is stored in the most secure and protected environment all the times.
Also, scalability is one of the features that both the servers enjoy. However, it is worthy of remembering that scalability does work on different levels. Thus, it is advisable to choose a solution that will grow with your business. At Copahost, we promise scalability on both Dedicated and VPS servers.
The VPS Servers can run basically in 3 possible platforms: KVM, OpenVZ or VMWare.
What is VPS web hosting?
VPS web hosting is a hosting service where the physical server is divided into different partitions (also known as virtual servers) that has its Operating system, Disc Space, and Bandwidth Limits. VPS is likable to shared web hosting a dedicated server in that the physical server is shared between different users just like shared hosting. Even more, the owner can manage the partitioned virtual servers like a dedicated server. Before you settle for VPS hosting, you should know the pros and cons associated with it.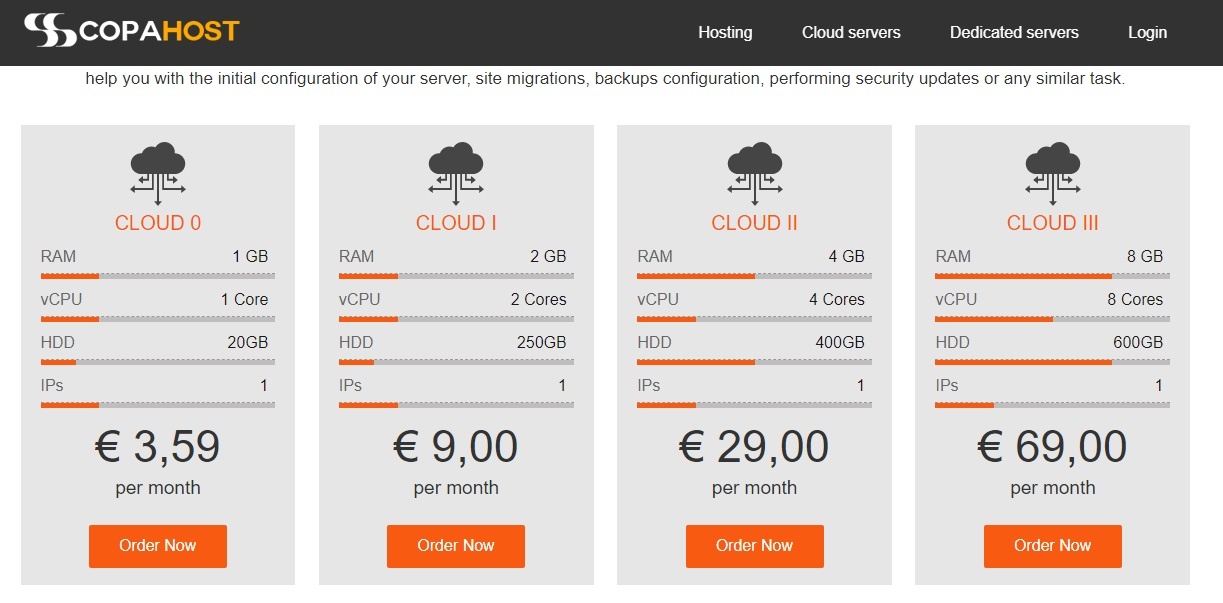 The pros and cons are as highlighted below.
Pros of VPS Hosting
Cost effective: In VPS, the customers share the expense of the maintenance of a server. Hence, it is cheaper than a dedicated server or building up a new data center in your firm. Besides, it is more cost effective because it offers on-demand advanced cloud computing services.
Privacy and Security: The presence of a virtual barrier between the users is a critical security feature. Besides, managed VPS come with technical support and assistance whenever there is a security breach on your account.
Reliability: Higher bandwidth, disc space, and CPU productivity associated with VPS hosting can help reduce the possibility of conflict, which is a common phenomenon in shared hosting.
Scalability: Cloud VPS hosting provided by Copa Host can deliver resources on demand. For instance, if you have a web traffic spike, they give you an opportunity to rescale your plan to meet the massive demand of your visitors.
Higher conversion rate and bounce rate: VPS servers are ideal for businesses that have a predictable number of visitors. Compared to shared hosting, VPS hosting is faster, and thus it guarantees that your website will load faster; hence leading to higher conversion rate and reduced bounce rate.
Cons os VPS Hosting
Compared shared hosting, it is more expensive.
Potential security risk: If the hosting provider is not well conversant with security features and if improperly configured servers may lead to security vulnerabilities.
Requires more technical knowledge to manage your server.
What is a Dedicated Server?
Whenever you compare a VPS vs Dedicated Server, you must have in mind the characteristics of a dedicated server. By definition, one client owns a single Dedicated Server, not sharing with others. In this case, the client has access to a full range of resources on the physical servers. These resources include all the network access, memory, processing power, and hard drive storage capacity. Besides, it is worthy to note that there are two types of dedicated server hosting. Managed dedicated hosting and unmanaged dedicated hosting.
Some of the pros and cons of dedicated server hosting include:
Resources: With a dedicated server, a business can take advantage of full power resources. No virtual server can match a dedicated server regarding processing resources, CPU power, intensive software modules, storage space, and other hardware attributes.
Security and Technical Assistance: Through the provision of a unique IP, it allows access to the user only. Round the clock technical support in case of an issue. No adware or malware experienced with dedicated servers.
Accessibility and Speed: Dedicated servers are fast. Accessing pages and online and logging using dedicated server host is easy and quick. Dedicated servers are suitable for financial transactions.
Performance and Reliability: Dedicated hosting is fast, and they cannot slow down traffic. This is due to the high processing power, vats disc space, and full memory.
Cons of the dedicated server hosting

Conclusion about VPS vs Dedicated Server
A virtual private server and dedicated servers have their differences; thus selecting the best one depends on your business needs. Comparing VPS vs Dedicated Server is not a very tough task. Nonetheless, the enhancement in technology, as well as the growing concern of security threats, should be your top priority. However, it is worthy to note that the hosted solution you choose is quintessentially the backbone of the operation of your business. It's therefore in this breath that we recommend Copahost as a reliable partner for your business.