DirectAdmin Let's Encrypt: How to install a free SSL
DirectAdmin is one of the fastest-growing web hosting control panel, especially after cPanel's new licensing model, which increased cPanel pricing by 300% in some cases. DirectAdmin have full support do Let's Encrypt plugin. Let's Encrypt offers free SSL certificates for any website, with absolutely no cost. This plugin is free and can be installed in any DirectAdmin web hosting server. Let's Encrypt can give you both wildcard or hostname based SSL certificates.
Copahost offers web hosting plans with DirectAdmin control panel and full Let's Encrypt support. You can find more about Copahost web hosting plans with full Let's Encrypt support here. Free SSL certificates for all your hostnames (wildcard certificates). You can also install Let's Encrypt in VPS Servers, as long as you order a DirectAdmin license.
Installing an SSL certificate in DirectAdmin using Let's Encrypt
First of all, under Account Manager, go to SSL Certificates.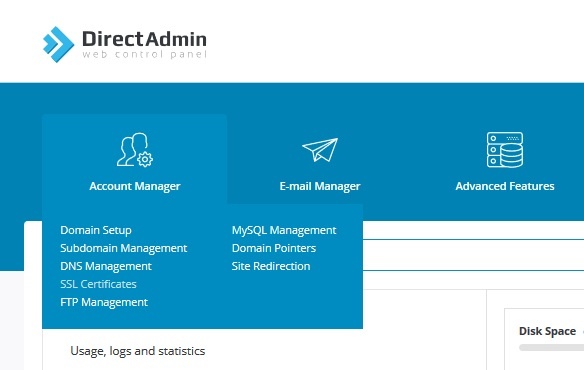 Now, you have to click on the option Free & automatic certificate from Let's Encrypt as follows:

In this screen, you will be able to configure your free SSL certificate. Then, you have to choose the desired domain name, and where the certificate will be installed. You can click Wildcard, to have the certificate automatically working for all subdomains or URLs. Or else, can select on which subdomains (hostnames) it will work.
In the end, there is an option Force SSL with https redirect. This is important to automate things: whenever a user accesses your site with HTTP, it will be redirected to HTTPS.
Finally, you can upload your files through FTP. You will see immediately an icon in the browser. So it confirms that the connection is secured.
Is it necessary to renew the Let's Encrypt certificate?
No. Let's Encrypt renews automatically all the generated certificates, at no cost. You can relax and there is no need to worry about SSL renewals.